Multitudinous Collection of Women sandals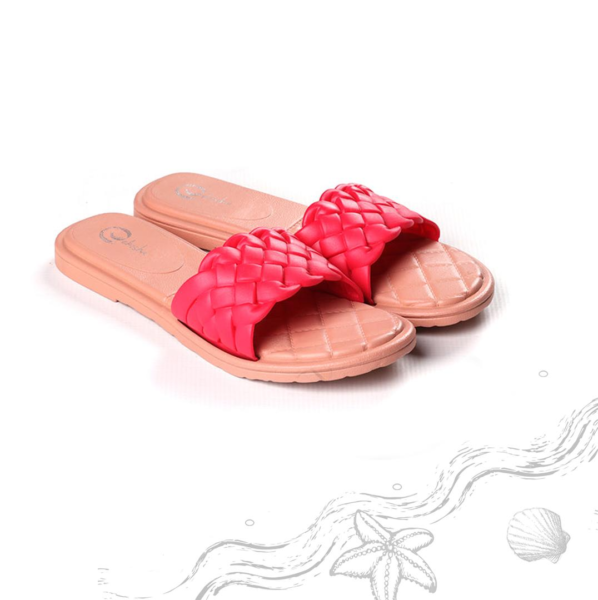 Sandals are soft and comfortable footwear for all, comprising of a mushy sole with multiple options of straps. There are different types of women's sandals varies function to function. Women mostly prefer sandals on almost every occasion because they feel comfortable and easy to walk. Sandals are made up of high-quality leather while some are rubber. A good quality sandal has a smooth insole and also a midsole with lightweight straps. Aged women or working women choose sandals. Therefore, women's sandals are a demanding item in the shoe market.
Servis Sandals:
Servis is the top shoe brand in Pakistan. It makes various styles of shoes including sandals, heels, rubber sandals, wedge heels and so more. It maintains the quality of products and utilizes refine raw materials in the manufacturing of sandals and other shoes as well. Servis provides the latest and trendy women's sandals all the time. While designing the structure of sandals, it considers the top trend fashion in the market. It delivers sandals of every type according to the demand of each customer. So, whenever women want to buy sandals at affordable prices, they go to the Servis outlet and buy them easily.
Collection of sandals:
Servis offers different varieties of sandals that look stylish and decent. The color schemes of sandals are also elegant and classic which attracts customers to buy them. Let's take a look at the collection of sandals that are available in the Servis store:
Wedge-style sandals:
This type of sandal is very common in the past. Every age group of women likes wedge heel sandals because they are stylish with comfortable soles. Wedge-style sandals can be worn at formal occasions or even at parties. It keeps feet soft and smooth. Even those girls who feel uncomfortable wearing high heels, easily wear wedge heel because it maintains balance while standing or walking. Servis is the top-rating brand that provides wedge heel sandals with modish designs.
Leather sandals:
Leather sandals are formal and elegant, worn in offices or formal meetings. The inner sole of these sandals is too soft with leather straps. These sandals are worn in formal meetings or party dinners. The color schemes of leather shoes are very attractive and have matte shades. The office-going women wear these sandals in their daily routine having comfy soles. Servis is a famous brand that uses first-class and excellent-quality leather to make sandals.
Flip-Flop Sandals:
Another type of sandals is also known as casual sandals. It is the latest style of sandals that looks stylish with beautiful colors. These sandals are mostly used in summer or even one-strap sandals are worn with socks in winter. There are various patterns in flip-flop sandals such as zigzag straps, cross straps, and single or multiple straps. These are homely sandals and are mostly used in daily routine or women's wear when going to the market. They are easily available at stores but the quality of Servis shoes is comparatively better than others. Its sandals are long-lasting and non-slippery.
Flat pump sandals:
One of the main collections of sandals in Servis Stores is flat pump-style sandals. These are casual and also formal wear sandals. These are stylish with glittery colors making them fascinating for customers. These are used in daily routine as well. Women can wear it at parties or family functions. There is a wide range of collections available in stores. The color scheme and pattern of these sandals are adorable and comfortable. Broaches with multi-colors or shiny gem styles are made them more attractive. College-going girls also wear flat pumps sandals, considered the most demanding sandal in stores. The inner sole is too spongy which keeps feet soft and healthy.
Block Heel Sandals:
Further, modish style sandals named Block Heel sandals are also very common in present days. Almost every brand manufactures this type of sandal but Servis manufactures block heel sandals by using prime quality material and the finishing of sandals is too smooth and clear. With prime quality, prices are also reasonable in its stores. Such type of sandals is used in formal functions, parties, or even wedding functions. The color patterns and designs of the heel with inner sole and straps are remarkable and unique i.e. T-Shapes, slide sandals, and ankle buckles with stylish pins increasing its demand.
Why Servis Sandals are the most demanding:
Let's take a look at two factors that make Servis sandals more demanding in the market as compared to other brands:
Price Bracket:
The main reason behind the demands of Servis Shoes is the budgetary prices of every sandal. They offer discounts on every occasion almost on all items. Some items are always on sale throughout the year. Due to the economical prices of comfortable and stylish sandals, it has a wide ratio of sales. Servis price bracket is always low compared to other brands in Pakistan. The quality and durability of products are also long terms and wonderful. It is right to choose the Servis brand because it defines prices according to market value and sustains the standard of items.
Outstanding Styling of Sandals:
Servis manufactures stylish and up-to-mark sandals. It has a collection of Western or Eastern styles with elegant colors for all age group of women. It has been serving the customer for the last seven decades. The styling and patterns of its sandals are updated and modern. It also provides sandals according to the traditions and culture of Pakistan. Therefore, there are multitudinous collections of sandals available in stores and online as well whenever anyone wants to purchase them.